As some of you may know, I'm a big fan of GOT7 (a.k.a an ahgase/igot7) and I've been waiting for a comeback to save my soul since May 2020.
So here are some good kpop songs to get us through this together
1. Poison by GOT7
As Jackson said, this is such a daddy song. Written by our maknae (youngest member of the group) Yugyeom.
But also stream every song by GOT7, they are all great. My faves include: When You Call My Name, Just Right, Lullaby, Look, Page, Thursday and The End.
2. Pporappippam by Sunmi
Sunmi debuted in 2007 with Wonder Girls under the JYP label (same label as GOT7) and is now a soloist with bomb tracks like Gashina, Siren and Heroine.
3. Gotta Go by Chungha
This song was introduced to me by one of my coworkers in Shanghai during a long night at work. Fell in love with Chung Ha's style and deep voice. She's also very nerdy in variety shows which I love. Some of her songs include Play, Stay Tonight and Snapping.
4. Paradise by Eric Nam
I slept on Eric Nam for so long, it is a disgrace. He's incredibly talented and also very funny (check out his youtube channel and his podcast on DIVE Studios) he's American so you may have seen him on some Buzzfeed videos etc. Some of best songs are You're Sexy I'm Sexy, Honestly, This is Not a Love Song and Congratulations.
5. Dynamite by BTS
Don't have a lot to say about BTS, I think you all know about them, they are FAMOUS. They're not my favourite group but I'd recommend you listen to their older songs pre DNA that you may not have heard: Dope, I Need U and Save Me.
6. Zombie by Day6
I had a big Day6 phase this summer, got me feeling like a 14 year-old teen during her first heartbreak. They are so GOOD at making you feel. Listen to the English version and don't tell me it hits the right spot. Other songs by them you may like: I Loved You, Congratulations, Shoot Me, You Were Beautiful.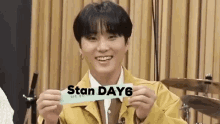 7. Lovesick Girls by Blackpink
I'm not a Blink but man they really are selling this to me. Their debut album called The Album is THE Album. Listen to all the tracks and feel it. From other songs they did, I'd recommend Playing With Fire (personal fave), Don't Know What To Do and Kick It.
8. La Di Da by Everglow
I don't really listen to Everglow but this one I enjoyed so it made the list.
9. Gunshot by KARD
I recently paid attention to KARD because of Big M who has a podcast called Get Real with Peniel from BtoB and Ashley from Ladies Code. KARD is way too cool for me, it's composed of 4 members, 2 girls and 2 guys so it has a very different vibe. I can recommend Red Moon, You In Me and Rumor.
10. Wanna Be Myself by Mamamoo
Mamamoo is MY girl group. They are cool, dance well and all have very different styles that complement each other. Among my fave songs you can listen to HIP, Starry Night, Decalcomanie, Egotistic.
11. Pretty Please by Jackson Wang & Galantis
The MV is amazingly well directed and the music just gets in your head. For those who don't know, Jackson is part of GOT7 but he's been doing so good as a soloist. Ahgase are so proud of him. Listen to Dway, 100 Ways and Bullet to The Heart.
12. Black Rose by The Rose
I invite you to really stream this on YouTube. The Rose is an amazing band but they've been in a litigation battle with their label who hasn't been paying them for YEARS! This song is only on Youtube because they lost their trial and published this song without their label's approval. Go support them. Also listen to Sorry, I.L.Y, California and She's in The Rain.
13. Maria by Hwa Sa
Hwasa is part of Mamamoo and has been killing it as a soloist with songs like Twit and Maria and has done a song for The King: Eternal Monarch kdrama OST. She's so good I really thought she had way more solo songs!
14. Eight by IU (feat Suga of BTS)
For me IU will always be Jang Manwol from Hotel Del Luna (one of the most famous kdrama of 2019, watch it on Netflix) but she actually debued as a singer with songs such as Twenty Three, Palette and Blueming.
15. My House by 2PM
What a CLASSIC. This is probably the only 2PM song I listen to but I listen to it on REPEAT. This is the only "old" song on there but I had to finish by this. For all igot7 out there, just watch GOT7's cover, worth every second.
What are your current faves and what songs have you been playing on repeat for years?
You can find our extended playlist