tvN's recent kdrama 'It's Okay to Not Be Okay' takes up the challenge of talking about mental illness with sincerity, and authenticity.
It's review time! Today, we talk about this summer's key kdrama: 'It's Okay to Not Be Okay'
A mean witch, a haunted house, a poor abandoned prince, and an evil stepmother. Such are the ingredients this ambitious series from tvN proposes. But if it attracts by its splendid decors, costumes and high-level cast (Kim Soo-hyun, Seo Ye-ji, Jung-se Oh), it is also a poignant story about mental illness and its place in society.
I'm gradually becoming seasoned to kdrama thanks to Valentine's insistence in discovering more and more titles. I usually find them comforting. Far from the excess of Western/American series, Kdrama mostly provide me with a safe space where I can easily find shelter and escape my day-to-day problems. This doesn't come without some side looks at times. Especially when I observe that, once again, a poor but serious girl falls in love with a rich CEO/chaebol/Director, that occurs to have enough money and connections to end our heroin's ordeal. Still, comfort, safety, cuteness. A balm to my broken heart.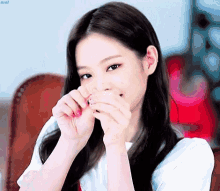 If I particularly loved 'It's Okay to Not Be Okay', past the amazing production, it is because it stands out with an original plot and a theme that is rarely evoked in modern culture: mental illness.
The pitch
The show opens on brothers Moon Gang-tae and Moon Sang-tae. The youngest is a caregiver, and the older suffers from a form of autism. Each year, they move away to a new home and a new hospital. Indeed, Sang-tae fears they will be caught by an evil butterfly. Their paths cross with Ko Mun-yeong, a successful tale writer, who happens to be Sang-tae's favorite. As it happens, their destinies tangle, and they will have to join forces to fight their demons.
Here are four reasons why I loved the show:
An unusual topic for a kdrama
At first, it appears that the mental illness part will be limits itself to Moon Sang-tae (Jung-se Oh). Gang-tae (Kim Soo-hyun)'s older brother suffers from a form of autism, and is the focus of the first episodes. It however becomes apparent very quickly that all protagonists suffer from different forms of it. Of course, they will need to come together to heal.
I found interesting that the topic was brought up the way it was. During the show, the protagonists come across other characters that have different diseases, showing them as humans, with joy as well as their suffering. I think it is an important topic in all societies, and probably even more in East Asian ones. As a whole, modern societies tend to become more and more obsessed with perfection, appearance, and performance. 'It's Okay to not be Okay' is a fun and comforting drama to watch, treating the subject in depth without giving in to pathos.
An exquisite wardrobe
I hear you already – YES, women in kdrama are always well put up with dream outfits. But hear me here, part of what makes 'It's Okay to Not Be Okay''s fairy tale atmosphere are Ko Mun-yeong's dreamy outfits. Some of them were actually designed specifically by fashion creator Min-ju Kim, who won Netflix's "Next in Fashion". I'm adding a video as it's as much I loved it.
Tremendous cast and colourful characters
I love Kim Soo-hyun to bits, that goes without saying, but another fascinating thing in this drama was the relationship between Moon Sang-tae and Ko Mun-yeong. Jung-se Oh (seen on 'Touch my heart'), played his role so well, without turning Sang-tae into some kind of buffoon to make him endearing. Yes, he is endearing, but he can be incredibly rough and selfish at times. He is a real person and that is what makes the show work.
Similarly, we meet a gallery of well-worked characters during the whole show, making it even more compelling.
Ko Mun-yeong is also a very strong character that does not let her mental illness and past get in her way. Boss bitch much.
Ko Mun-yeong's stories
Ko Mun-Yeong and Moon Sang-tae have their own way of communicating, and that is through stories and drawings. The production has made a great job of bringing their tales to life to illustrate the problems they're going through, in truly charming (sometimes creepy) style.
As you'll have understood, I was a very big fan of the show and its admirable aesthetic, unique ambiance and characters.
Do tell me if you liked the show in the comments!
See you next time for another review !